13

Rating
83

views
13

Likes
2

Comments
It is important to introduce new foods to your child at the same time that you introduce familiar foods. If your child does not try the new food the first time, keep introducing it to them. Some babies and children need to be exposed to new foods many times before they feel confident enough to try them. Make sure that you are eating with your child as often as possible. Give small portions and praise them for eating, even if it is only a small amount. If your child refuses to eat the food, do not force them to do so. If they refuse, you can take away the food without saying anything.
There are also a number of factors that can affect a baby's ability to feed, such as stress, pain from teething, medication side effects, etc. Children who suffer from certain health problems may also have difficulty feeding. Some of the possible causes of infant feeding and swallowing problems include prematurity, low birth weight, and other health problems.
Force-feeding can disrupt a child's development, resulting in malnutrition or obesity, as well as poor self-regulation concerning food consumption in later life. "Sometimes these kids may look healthy but they are not healthy," according to a study conducted by the University of Louisville.
Picky eaters often display certain symptoms that might seem a little obvious, such as pushing away the spoon or turning their head away from it. They might close their mouths as you feed them, they might spit out the food or they may become cranky or tired when it comes to mealtimes.
Ways to feed a picky eater baby: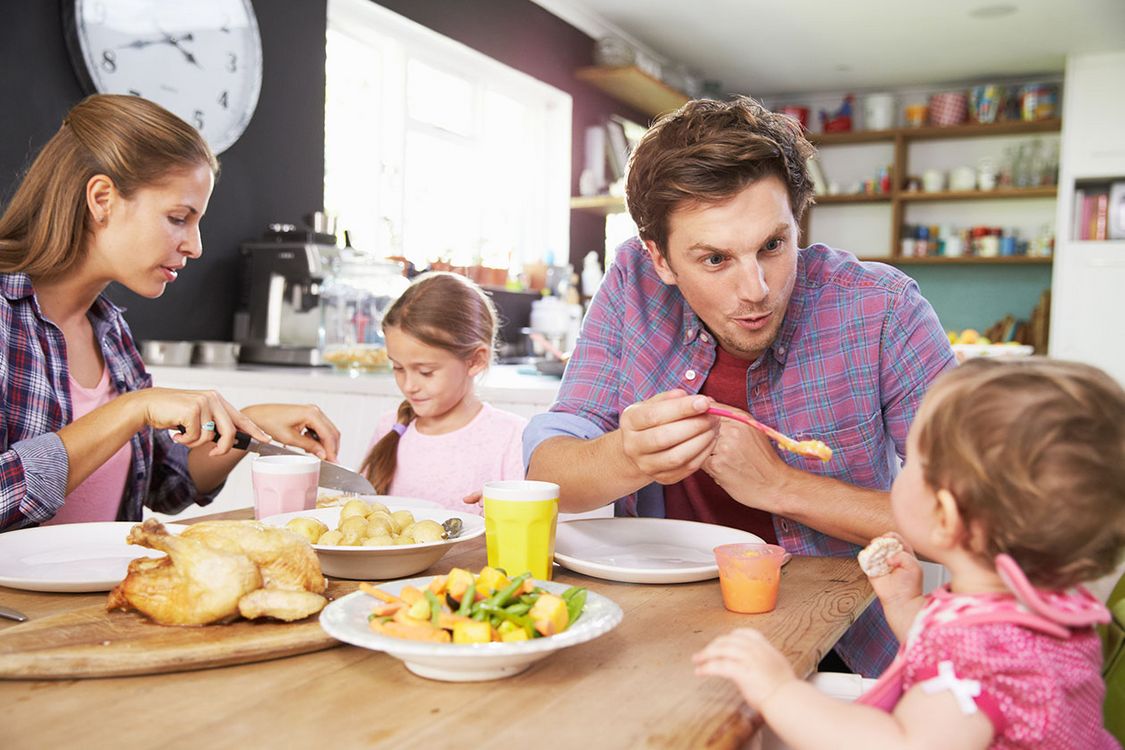 Feed your baby while your family is eating — If possible, feed your baby while your family is eating as this will allow your little one to feel part of a family ritual that will encourage him to enjoy eating. If your little one is involved in this family ritual, meals will become much more enjoyable for him or her - even if they do not consume as much as you wish.
Don't force feed — You should never force-feed your baby. If they turn their head away from the spoon, they are telling you clearly that they have enough food. Trust that your child will eat what they need, regardless of how little they appear to have eaten. You may find your little one becoming fussier as a result of forcing him/her to eat despite these signs if you force him/her to eat despite these signs.
Feed your baby what you eat with the rest of the family — Purees can seem a bit dull. The dishes we make ourselves often have spices, textures, aromas, and colors that make them a lot more interesting than purees. Having babies start eating real food can be a great way for them to develop motor skills, palate, enjoyment of their meals, nutrition, and so on. Just make sure that you give them smaller pieces. 
Allow baby to touch their food — In most cases, you wouldn't eat something you had never seen before without at least touching it first. It's the same when it comes to your baby. Let him or her touch a new food before you offer it to him or her.
Don't give up on breastfeeding yet. Solid foods can come slowly — Generally speaking, infants who are six months of age should be fed mostly breast milk, and gradually transition to only solid food over the next 6-12 months. This is a good time for you and your baby to experiment with solid food and its flavors and textures. It is not a time when you should completely replace breast milk with solid food.
Maintain a reasonable length for meals — If you have a picky eater, it can be tempting to let them eat for as long as they want. But you shouldn't let them eat for much longer than 20-30 minutes at the most.
If your baby is able to feed himself, then you can let him — Whenever the baby grabs the spoon, he is letting you know he is ready to feed himself. Let him use his hands. It is messy, but you can help this situation by using bowls with lids and bibs with long sleeves, as well as placing a large mat under the high chair. Visit our Marketplace for more baby-feeding products!
Tempo transformation — There are some babies who prefer to eat fast, and there are others who prefer to eat slowly. You might only be able to find out if you're frustrating your little one if you slow down or speed up the next feeding.
Don't give up, keep trying — In some cases, babies may require eight, ten, or even fifteen exposures to a food before they are able to enjoy it, so be patient, and continue to try a rejected food, as long as there is no indication of allergies, over time.
Stay calm and don't let your frustration or anger shows — A picky eater will understand the power it has over you by reacting emotionally to them. If you react emotionally, even a 1-year-old will understand their power over you. You must realize that you want your baby to eat for their own well-being, not to please you. Your baby's rejection of food is not your rejection of them.
Approximately one in five babies by 15 months of age are fussy eaters, according to research. It was found that fussy eaters had twice the likelihood of having firm food preferences compared to babies who were introduced to lumpy foods between 6–9 months, as well as being twice as likely to insist on baby foods well into their first year. 
You should try whatever plan you come up with for at least one week. Let your child get used to it and then assess how things are going after that.
Read these related articles:
Tantrums In Toddlers: How To Stop And Handle Them
Learn How To Make Homemade Baby Food For The First Time
Check Out These Other Interesting Baby Articles:
13 Rating
38 views
30 likes
0 Comments
Read more
Blakely Pittman Information
Featured Post
Empowering Single Parenthood: Strategies for Stability ...
November 26, 2023